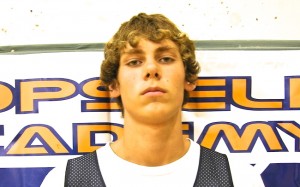 Height: 6'9″
Class: 2017
Position: Forward
Hometown: Wakefield, RI
School: The Prout School
AAU Team: NE Playaz
National Ranking:
1 (NERR) 11 (Future 150)
TOMAS MURPHY ELITE WEEK TESTIMONIAL
MURPHY MAKES HIGH SCHOOL DEBUT
MURPHY SHINES AT 2013 ADIDAS INVITATIONAL
TOMAS MURPHY 8TH GRADE 2eZ MIXTAPE
MURPHY DOMINATES AT 2012 FROSH/SOPH ELITE 75
TOMAS MURPHY 7TH GRADE 2eZ MIXTAPE
TOP 5 PLAYS FROM ELITE WEEK 2012
Bloodlines run deep for Tomas Murphy, and at a young age Murphy is forging his own path, with a highly polished offensive skill set, including deep range on his jump shot, solid ball handling skills, an effective post game, and the athletic ability to finish above the rim.  Murphy is a prospect to keep an eye on for the future.  Murphy's father Jay played for Boston College before being drafted 31 overall in the 1984 NBA draft, and he has two older brothers (Erik and Alex) both play major college basketball for Florida and Duke respectively, and were Top 100 recruits coming out of high school.